Feel welcome, stay curious
We are a public primary school and want children to feel at home. However we also like to make them feel at ease and be challenged in a playful way. We monitor their skills and talents. In addtion to learning to read, write and math, we offer extra curricular subjects at the school.
Do you have a child who will soon reach primary school age (4 years)? Are you interested to learn more about our school? Please feel free to attend Open House (organised mornings to introduce our school)!
You are duly invited to join our Open House on Tuesday 14th February (9-10am) You are welcome to bring your son or daughter.
On this morning, the principal, teachers, parents and children will tell you everything about the school.
We welcome new pupils to the Eduard van Beinum school! We recommend that you start looking for a primary school when your child is three years old. We are available for a personal appointment and school tour. You will receive an information package and a registration form afterwards.
Surrounded by the green of our neighbourhood, public primary school Eduard van Beinum is located at the heart of Hillegersberg. It is situated between the Molenlaan and along the edge of the Lage Bergsche Bos. Many pupils come from the surrounding areas of the school. Teachers, children or parents. Everyone feels at home at our school. We know each other personally. We challenge pupils in a playful and smart way and encourage them to explore the world with an open view. The primary school where you enjoy learning.
We are proud of our building
Our schoolbuiling is newly renovated and re-opened in April 2022. The Eduard van Beinum has been a shining light in the neighbourhood! With all the light and the learning squares, the school is a great place for our students. We are no longer depening on gas. We will also fit solar panels. Currently we focus on creating a new playground for playtime. We aim to start soon.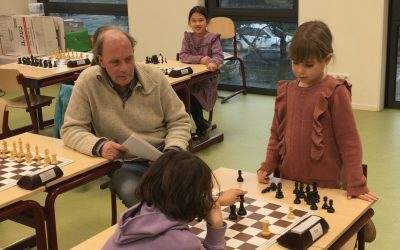 Op zaterdag 14 januari was er in ons schoolgebouw het schaakkampioenschap van de Rotterdams schaakbond. Meester Frank, onze schaakleraar, had kinderen uit de hele regio uitgenodigd voor dit toernooi. Er deden meer dan 80 kinderen mee. De eerste verdieping was...